A new Innovation Hub powered by Google has opened at UAE University (UAEU) in Al Ain as part of a collaborative effort involving Abu Dhabi's Department of Education and Knowledge, Bayt Mitwahid Association, Google and the university.
The hub is split into several different sections, including the maker area, where students will learn and be able to use high tech equipment such as 3D printers and laser cutting tools, allowing them to develop and create their own prototype designs. The facility also has an app factory, which lets students develop and programme their own apps using a wide range of advanced software tools.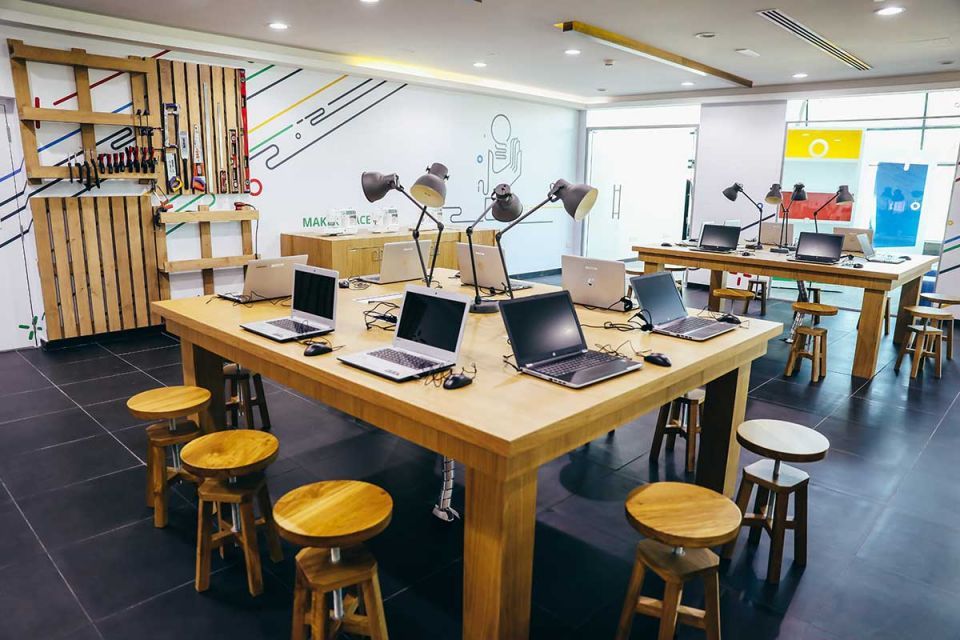 The facility also has another section called the machine learning area, where students learn about machine technologies giving them a grasp on some of the latest developments and advancements in machines.
By bringing the students and technology together under one classroom, the Innovation Hub is looking to diversify the traditional classroom environment, making the experience more interactive and giving students a hands-on approach to what they are learning.
"This is an amazing platform that has been created for students, providing them not only with an active space but also with a curriculum in each of the main areas with different classes taking place where they can learn about 3D printing and making their own mobile apps," said Al Anoud Madi, vice-chairman of the Executive Committee of Al Bayt Mitwahid Association, the group that originally came up with the concept of the innovation hub.
"It is a very unique place and the first of its kind in the Middle East, providing students with all the latest cutting-edge technologies that they cannot find in many other places. At the Innovation Hub, they get to engage and interact with these technologies, instead of having to just learn about them in theory," she added.
Selim Eddie, head of public policy, Middle East and North Africa, Google, said the hub was planning to have at least 20,000 students visiting this year.
"We are hoping that 120 students from high schools and the university pass through the Innovation Hub everyday, and for the whole year we are looking at 20,000 students visiting and taking the classes on offer.
"To have a place like this for students is very beneficial, you can teach them about programming all day in a classroom, but nothing can replace a rich interaction with a teacher or their fellow students. Our goal is to create an innovative and fun atmosphere in order to make the learning process more exciting as well as more effective," he added.
Dr Shawqi Kharbash, chief executive officer of UAE University Science and Innovation Park, also commented positively on making the classroom environment more engaging with students and allowing them to directly interact with the concepts they are learning about.
"This facility has been made in a way to be very interactive for our students, it is not a basic classroom, we wanted it to be different for the students where they can learn and have fun at the same time.
"Having the students engaged and doing things like creating their own apps or using high-tech equipment like 3D printing machines really enhances the whole educational experience," he added.
"It's all about capacity building as well. When we look at the industry, we see a lot of movement towards artificial intelligence and other technologies, and so it's important to have our young students ready and prepared to work in such fields, and the best way to achieve that is by starting with them when they are young," he said.
Dr Kharbash said the innovation hub is also going to recruit university students to become lecturers at the facility.
"We are currently in the process of training some university students who will go on to become lecturers for the high school students who visit the Innovation Hub.
"It definitely gives these university students more responsibility and engagement, we want our students to be a part of the process of transferring knowledge and making the innovation hub grow," he added.
"Another advantage is that there isn't a big age gap between the university and school students. They will both have a similar understanding on what is relevant at the moment from a technological standpoint," he said.